Fresh Rotation | 4 new songs we're listening to right now
New music from Wilco, King Gizzard, Moonchild and Kikagaku Moyo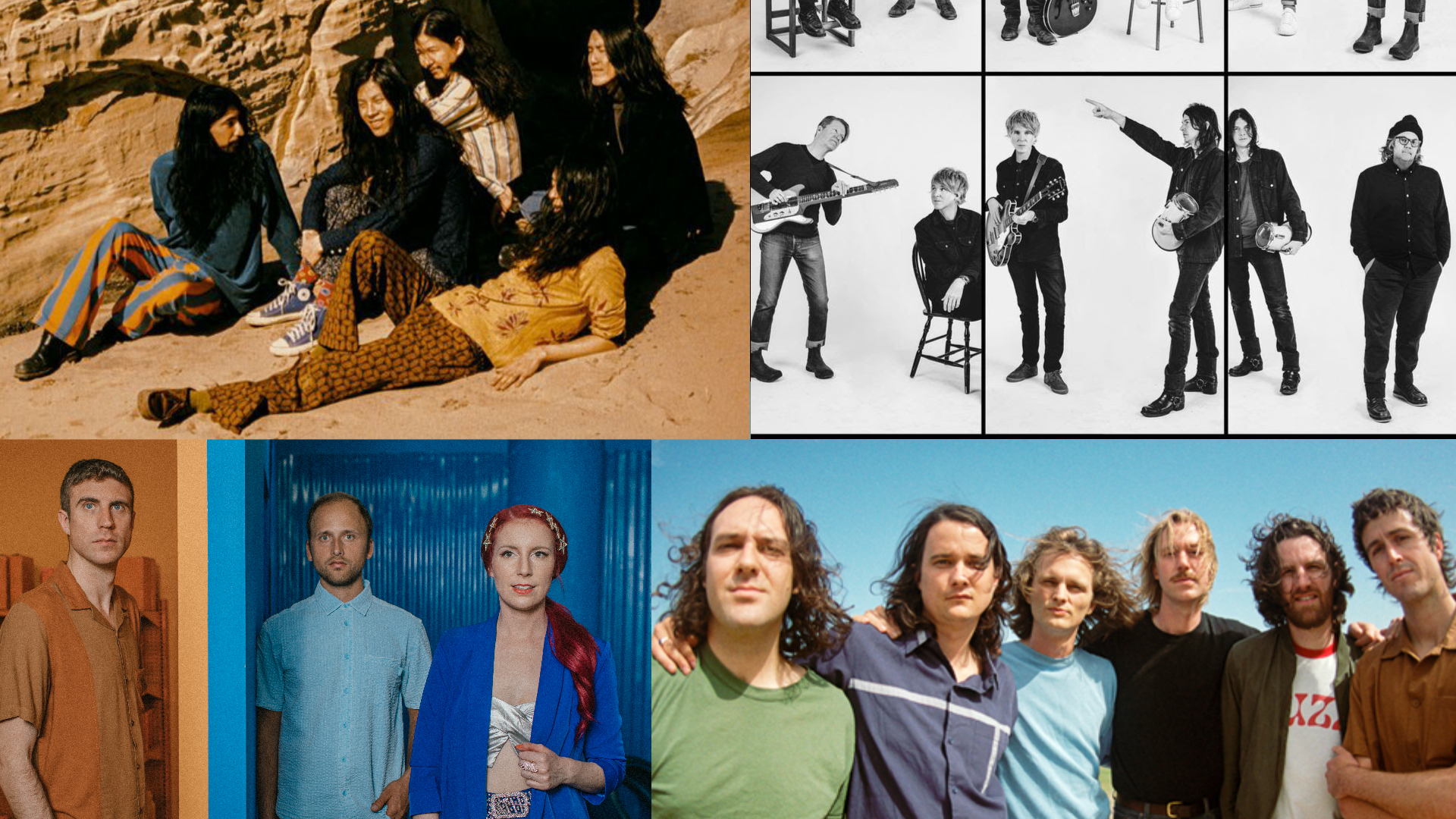 Credit: (From left) Moonchild, Kikagaku Moyo, Wilco and King Gizzard & The Lizard Wizard press photos courtesy of the artists
Each and every week the JME team handpicks the juiciest new tunes from local, regional, national and international artists to add to the rotation on The Independent 89.9 HD4 (and to our tasty, tall-glass-of-a-listening-experience that is our monthly Fresh Squeeze playlist). Each song is chosen with intention. And so we often feel like they are worthy of a broader discussion (or at least a bit of context).
Here are four new songs that the JME team is listening to this week.
"Carboard Pile" by Kikagaku Moyo
After a decade of reaching for untouched sonic planes and transcending time to create an island for universal connection, Tokyo-based psych-rock band Kikagaku Moyo come full circle on their final album Kumoyo Island (due out May 6). Far from their humble beginnings of busking on the street's of their native metropolis, the five piece have reached peak psychedelia with the album's lead single "Cardboard Pile." Distorted guitar, the sympathetic strings of sitar and swift drums pile on top of eachother, morphing into a noise fractal before exploding into a mellow groove decorated with horns and indecipherable lyrics. While it's hard to believe that this is the last we will hear of Kikagaku Moyo, we can be grateful they left us with one last geometric pattern to unravel.–Rain Henderson
---
"Falling Apart (Right Now)" by Wilco
For their first single from the forthcoming Cruel Country full-length, Wilco somewhat returns to the Chicago band their Americana tag that once defined and doggedly tried to confine them. A medium-tempo blast of country rock that tips a hat to Bakersfield, Doug Sahm, and heavily phased guitar picking that evokes Waylon Jennings –– with Jeff Tweedy's plaintive vocals chronicling self-collapse –– "Falling Apart (Right Now)" strips away any compositional sidebars and production filigree and reveals that the band can both venerate and detour any roots-of-origin trip.–Daniel A. Brown
---
"What You Wanted" by Moonchild
L.A. alt-R&B trio Moonchild have returned with "What You Wanted," a levitating downtempo jam song that floats around the band's signature, space-y sound grounded in vibrant-yet-easy production and sweet melodies. A remix by pianist Kiefer makes Moonchild's funk more prevalent. "Be careful what you ask for," croons Moonchild vocalist Amber Navran." When it comes to this track, we'll throw caution to the wind, and ask for the grooves.–Al Pete
---
"The Dripping Trap" by King Gizzard & The Lizard Wizard
After teasing their new record with the psych-pop expedition "Magenta Mountain," Australian lords of multifariousness King Gizzard & The Lizard Wizard have released Omnium Gatherum, a 16-song, 80-minute jumbo-sized trick-o-treat bag that's as delicious as it is varietous. Deploying everything from sludge-y metal riffage to funkified slow-jams to maniacal psychedelic freak outs, the album is KGLW at its best –– which is to say, all over the place. Nowhere is that ADHD-inspired approach more effective than on the 18-minute album opener "The Dripping Trap," which begins in the lo-fi, neo-soul realm before time warping into a noodly facemelter (and that's just in the first four minutes).–Matthew Shaw
Listen to The Independent 89.9 HD4 to hear these songs and the best new music from local, national and international artists.
---