Go | Bikini Kill at the St. Augustine Amphitheatre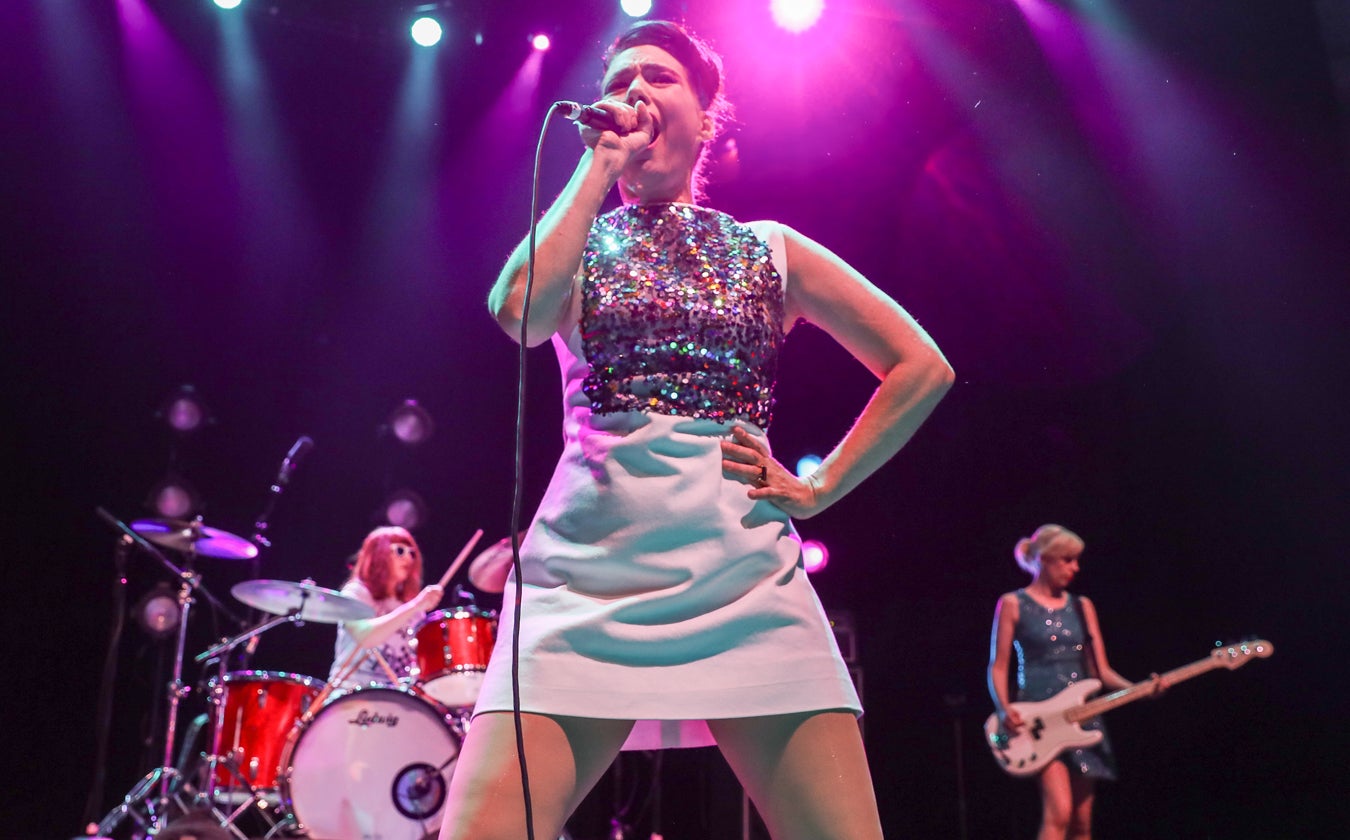 Bikini Kill performs on the Backyard Stage at the St. Augustine Amphitheatre on Tuesday, May 31. Credit: Press photograph provided by The Amp
Update (May 31; 10:00 a.m.): The Bikini Kill Show at the St. Augustine Amphitheatre's Backyard Stage has been cancelled. From Bikini Kill:
"Due to a member of the band testing positive for COVID-19, Bikini Kill will be canceling our show in St. Augustine which was scheduled for today – Tuesday, May 31. We are extremely sorry that we will be unable to play this show."
Refunds will be provided at point of purchase. Patrons who purchased tickets online at Ticketmaster.com will automatically be refunded back to the original payment method. Patrons who purchased tickets at the venue Box Office are advised to check the hours of operation before heading to the venue. CLICK HERE for more information, on our refund policy.
Thurston Moore famously said of the Velvet Underground that they didn't sell a lot of albums, but everyone who did buy one ended up starting their own band. He was speaking from his own experience, and there are thousands of other musicians who would confirm the theory. Similar things can be said of Bikini Kill, one of the most influential rock bands of the past four decades, and one reborn, however briefly, for a world tour that comes through Florida at the end of May. It's a moment in history, wherever they happen to be, and most certainly here in the South.
The band plays the Backyard Stage at the St. Augustine Amphitheater on Tuesday, May 31. After two weeks in Europe, they will return for shows in Kentucky, Virginia, North Carolina and Tennessee, before leaving the South via Atlanta on July 1. Each of those locations has strong local, independent music scenes, and every single one of those areas has a bunch of people who were inspired by Bikini Kill. Now, they aren't all musicians, and they aren't all women; I, for example, am neither, but I love them dearly.
However, it's natural to fix one's glance upon the band's place within the long-term trajectory of women in music, because that does constitute the core of their legacy. If you were not around in the early '90s, it's impossible to explain how vastly different the music industry is now, compared to the years when Bikini Kill was originally active: the technology, the economics, the media environment and especially the politics.
While the group's sound, their aesthetic and their approach to branding always had obvious historical antecedents, the total package was ultra-fresh and intensely compelling when they first emerged on the scene in October 1990. The name originated with a colleague, Lois Maffeo, who gifted it to drummer Tobi Vail; she then used it for the project she started with bassist Kathi Wilcox and writer/singer Kathleen Hanna.
Not classically trained, Hanna did have a loud voice, a prolific pen and godlike levels of charisma. She quickly became not only the voice of the band, but also its face.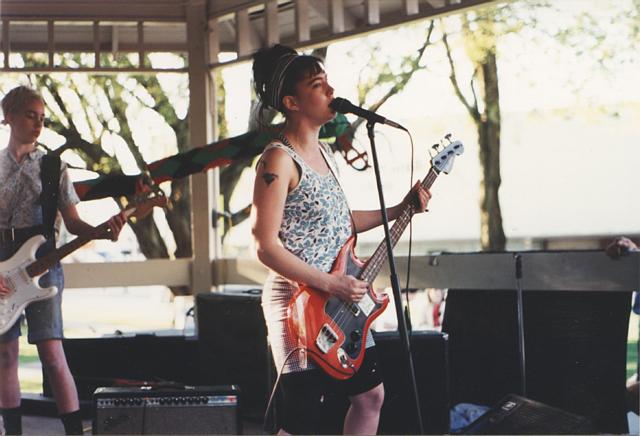 The same could be said for the movement Hanna helped start: "Riot Grrrl", early tenets of which were articulated in her self-published zine, also called "Bikini Kill," which she distributed during the band's first shows in early 1991. This is another way in which Hanna et al changed the culture, by helping influence the proliferation of zine tech, in those years just before the rise of the internet, and long before social media took charge of performing the same basic functions of community-building. There's an entire zine collection, currently on the ground floor of Jacksonville Public Library's Main Branch downtown; most of that material would have never existed, without Hanna, a fact acknowledged when she was invited here to speak at a panel on zine at that same library, a decade ago. Sharing that panel with her was one of the highlights of my career. Afterwards, we all had lunch at Burrito Gallery, where Hanna hung out with the dozens of women and girls who had come there specifically to meet her and say "Thanks." (There were plenty of guys, too.)
For most music fans (myself included), their initial introduction to Bikini Kill came, as so much always did, as a result of Sonic Youth, who cast Hanna in the video for "Bull In the Heather." By that point, Bikini Kill's second album, Pussy Whipped, was six months old, and already considered essential listening among the indie-inclined. The first of two albums released by Sub Pop Records, Pussy Whipped includes "Rebel Girl," one of the greatest songs of that era, a mixtape staple destined to live on as a feminist anthem until the very end of time.
The band's third album, Reject All American, was released in April 1996. But Bikini Kill broke up in 1997; they never wrote or recorded another song ever again.
The band returns now due to fierce demand from a fanbase whose loyalty did not waver, even after two decades of inactivity. Indeed, a substantial percentage of those attending their shows this year were not even born when the original lineup last performed together in Sydney, Australia in May of 1997. It was a quiet end for a band that was, briefly, making more noise than almost anyone.
The intervening years had been productive for all involved, particularly Hanna, who continued making music while slowly growing into her contemporary role as an OG of modern feminist creators, helping develop future legends in the same way that Sonic Youth's Kim Gordon did with her. Hanna recorded two albums with Le Tigre, then two more as Julie Ruin, while also making dozens of guest spots with artists ranging from Joan Jett to Chelsea Peretti. She was also the subject of Sini Andersen's 2013 documentary The Punk Singer. And, she got married — in 2006, to Adam Horovitz, aka King Ad-Rock of the Beastie Boys.
A single one-off, one-song gig in November 2017 sparked renewed interest. Bikini Kill was thus officially reborn at the Hollywood Palladium on April 25, 2019, exactly 22 years, one month and 23 days since their last full set. They actually played here, at Daily's Place, that August 4, oddly in support of Dirty Heads and 311. That kinda slipped under the radar (I had no idea until literally just now), so it would be fair for fans to think of this upcoming run as really being their first proper visit to the Sunshine State.
The original quartet has reunited for this tour, minus only guitarist Billy Karren; Erica Dawn Lyle fills in ably.
After all that's happened in music and in feminism over the last 30 years, it makes perfect sense that the band has chosen 2022 to make their victory lap. In these retrograde times, Bikini Kill is re-emerging to remind us of what we're all fighting for, and also how to do it.
---