Fresh Rotation | 3 Songs We're Listening to Now
Psych-Americana, shoegaze and exquisitely rare garage rock from Cambodia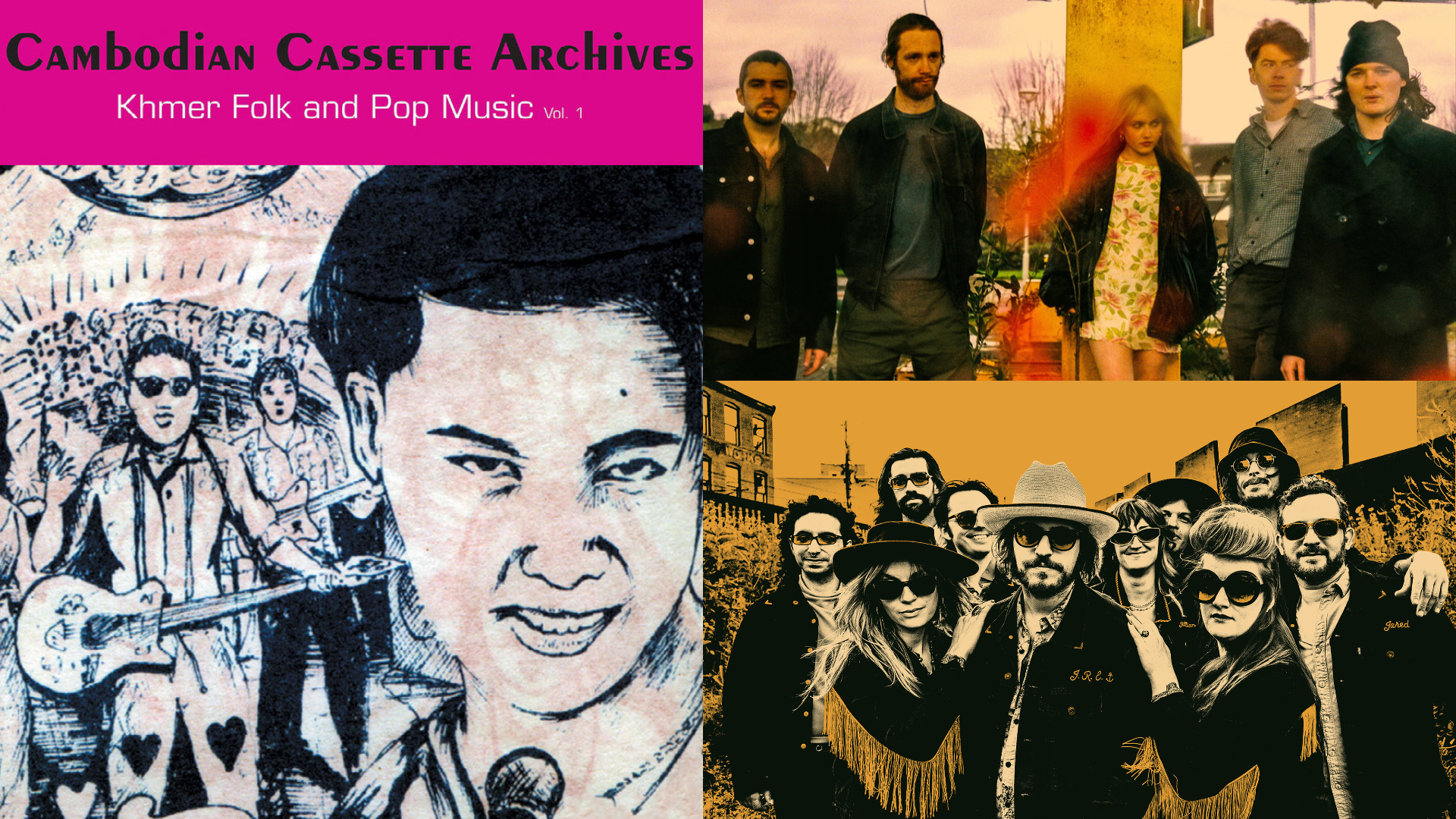 Credit: (From left) 'Cambodian Cassette Archives', Just Mustard press photograph by Megan Doherty and cover art andCosmic Guilt press photograph by Bob Sweeney.
Each and every week the JME team handpicks the juiciest new tunes from local, regional, national and international artists to add to the rotation on The Independent 89.9 HD4 (and to our tasty, tall-glass-of-a-listening-experience that is our monthly Fresh Squeeze playlist). Each song is chosen with intention. And so we often feel like they are worthy of a broader discussion (or at least a bit of context).
Here are three new songs that the JME team is listening to this week.
Tune in to The Independent 89.9 HD4 to hear many of our team's Fresh Rotation picks, as well as the best new music from non-commercial artists.
"Cosmic Guilt" by Cosmic Guilt
Months ago when Mark Zuckerberg asked the world to henceforth refer to Facebook as Meta, I celebrated by plotting a playlist for the metaverse primarily made up of meta songs –– that is: self-referential tunes like Prince's "My Name is Prince." Proud as I was of my ingenuity, I never made the playlist, and never again thought about it. That is until I was in Philadelphia, where I was lucky enough to catch 10-piece psych-Americana outfit Cosmic Guilt perform several songs, including one titled "Cosmic Guilt" from the band's debut full-length Cosmic Guilt.
Meta? Certainly. Were they any good? Very good! And while, with an extraneous amount of guitars, sashaying backup singers, two charismatic lead-vocalists and much fringe hanging from custom-Western duds, Cosmic Guilt (the band) was, by all appearances, a lot. On "Cosmic Guilt" (the song), as well as Cosmic Guilt (the record), they make it all work, tastefully building layers of harmonies and joyful, often unhinged, racket on a foundation of high-quality songwriting. While touring as an indie band comprised of nearly a dozen humans seems a tall order, perhaps we'll catch Cosmic Guilt on stage in the metaverse in the not-too-distant future. Sign me up for a headset, Zuck! –Matthew Shaw
-Stream "Cosmic Guilt" by Cosmic Guilt
---
"Mirrors" by Just Mustard
Irish shoegaze group, and Fountaines D.C. label-mates (Partisan Records), Just Mustard continues to drop eerie offerings, teasing the release of their upcoming full length Heart Under. The sweeping distortion and delay on the single "Mirrors" creates an anodyne wash of noise that encompasses all things alluring about bliss rock. Atop the hypnotic waves, vocalist Katie Ball's hymns rise and fall into harmony with guitarist David Noonan –– a sonic experience akin to the seducing enchantment of a siren. "Look in the mirror / Staring someone else in the eye," Ball sings as, together with her eldritch troupe, Just Mustard presents a haunting drama starring a familiar and spectral character.–Rain Henderson
-Stream "Mirrors" by Just Mustard
---
"Roserb Nas! Roserb Nas! (Don't Let My Girlfriend Tickle Me)" by Sinn Sisamouth
The recent release from the mighty Sublime Frequencies — the unrivaled label that consistently pumps out interesting, historical non-Western music of the 20th century — was culled from 150 cassettes salvaged from the Asian branch of the Oakland, CA library. Featuring various artists recording from the 1960s-90s, Cambodian Cassette Archives: Khmer Folk & Pop Music Vol. 1, is a 42-track collection that runs the gamut from the poignant and traditional to the psychedelically unhinged.
Sinn Sisamouth's "Roserb Nas! Roserb Nas! (Don't Let My Girlfriend Tickle Me)" features the universal tongue of acid-washed wah pedal freak outs, splayed out over a nice garage-rock stomper. At the halfway point, the lead guitarist unfurls some delectable soloing that leads one to imagine a solid night at the (sadly non-existent) Fillmore Southeast Asia.–Daniel A. Brown
---