Local Spotlight | 4 new tracks by Jax artists out now
New tracks by Duval's own Bebe Deluxe, Sunriver, Jesabel and Little Geronimo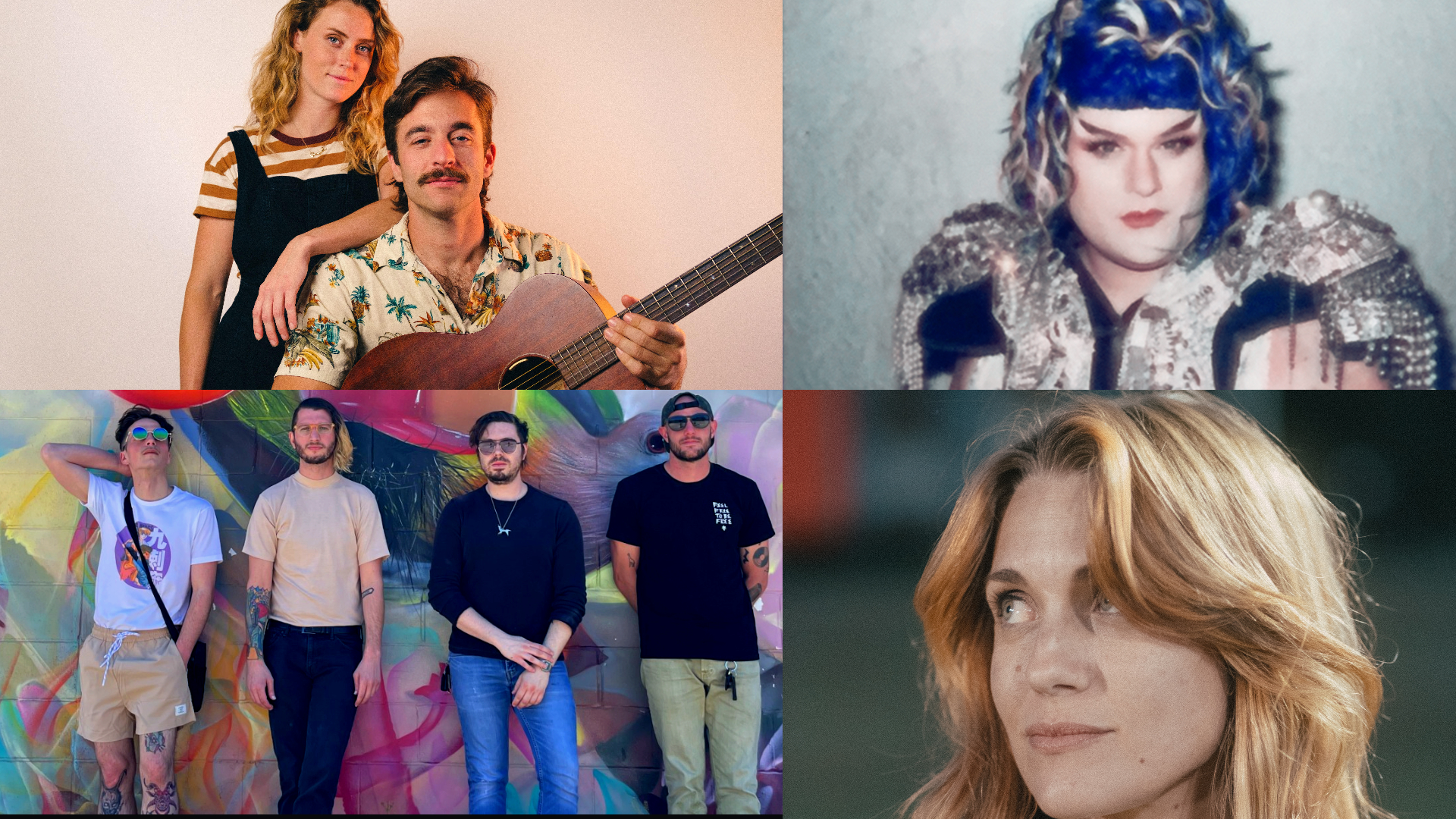 Credit: (From left) Press photographs of Little Geronimo, Sunriver, Bebe Deluxe and Jesabel courtesy of the artists
We're always keeping our ear to the ground in order to put the spotlight on the beautiful noise emerging from Northeast Florida. This week, Jacksonville Music Experience contributors share four new songs by local artists that we think you'll dig.
Let's dive in.
"This Small Town" by Jesabel
The phrase small town has been used so often in popular music, it can be hard to know what imagery artists are hoping to conjure when they deploy it. While the US census describes a small town as one with a population of 5,000 residents or less, more often songwriters use the term as shorthand for a state-of-mind rather than delving into demographic data. That's arguably the case for Jax indie-pop singer-songwriter Jesabel, who draws on her upbringing in a low-density Georgia enclave –– where she was once a varsity cheerleader, member of the homecoming court and yearbook-superlative recipient –– to conjure up a country-inflected tune that explores the parts of ourselves that, once we hit our more formative twenties, we try to leave behind. It's called "This Small Town," sure. But the tune –– written and produced alongside longtime collaborator Jonathan Grant Berlin (Sunbears!) –– is really about growth and acceptance. Big topics.–Matthew Shaw
---
"Find Our Way" by Sunriver
Jacksonville indie-folk duo, Sunriver, capture the essence of their new-found sound on "Find Our Way," the title track from their recently released EP. The duo radiates positivity through soft-spoken affirmations, simple acoustic strumming and sparkly bits of piano cascading into a downright sprightly outro that will have you bouncing. The evolution of the last two years seems to have worked as a mystical experience for the pair, leading them to a new reality. These unwavering musicians should consider changing the track's title to "Found Our Way". –Rain Henderson
---
"Hard Femme" by Bebe Deluxe
The more music she releases, the more Jax-based electro-pop artist Bebe Deluxe seems to both distinguish her sonic signature and hone her distinctive voice. That's not to say Deluxe hasn't already proven herself a singular artist. On previous output, like the 2Much4U EP, Deluxe doused her EDM-flavored tracks like "I Wish You Would" with attitude and sprinkles of pop hooks –– even reimagining Black Kids' "I'm Not Gonna Teach Your Boyfriend How to Dance With You," making an already glimmering dream-pop tune sparkle with new life. On her latest single, "Hard Femme," Deluxe deploys a gritty, electroclash soundscape, girding the listener for the track's message of internalizing respect and affirmation –– instead of seeking it from external sources. "Let's pay this body some respect or else your body will get checked," Deluxe sings, distinguishing any notion of vulnerability. Deluxe is an artist on the rise. Good luck trying to divert her from her current trajectory.–Matthew Shaw
---
"Glow" by Little Geronimo
Did the world need "math-pop"? Apparently so. Duval quartet Little Geronimo answered their own inquiry with this self-proclaimed nomenclature. Undoubtedly more smooth jazz than Slint, "Glow" is an odd but not forbidding chimera: a bouncing pop tune that features pop-sheen vocals, unexpected, intricate breakdowns of jazz turnarounds and flickering arpeggios, danceable-yet-complex rhythms, all of which inexplicably dissolves into an electronic-illbient wash. On a conceptual level—blending Top 40 gloss with high-minded harmonic ideas—makes Little Geronimo a clean-cut descendant of the fathers of the form: Steely Dan. Is the band a challenge to the Becker/Fagen legacy? No. But Little Geronimo surely have their own charms; we're curious to see if they attract a larger audience through marrying these genres that might otherwise prefer living a single life.–Daniel A. Brown
Listen to the best new music from non-commercial artists, including those making music in Jacksonville on The Independent 89.9 HD4.
---