French artist, and Art Camp host, Lucas Beaufort Shares the Music that Fuels his Practice
A playlist of peace, love, understanding and Radiohead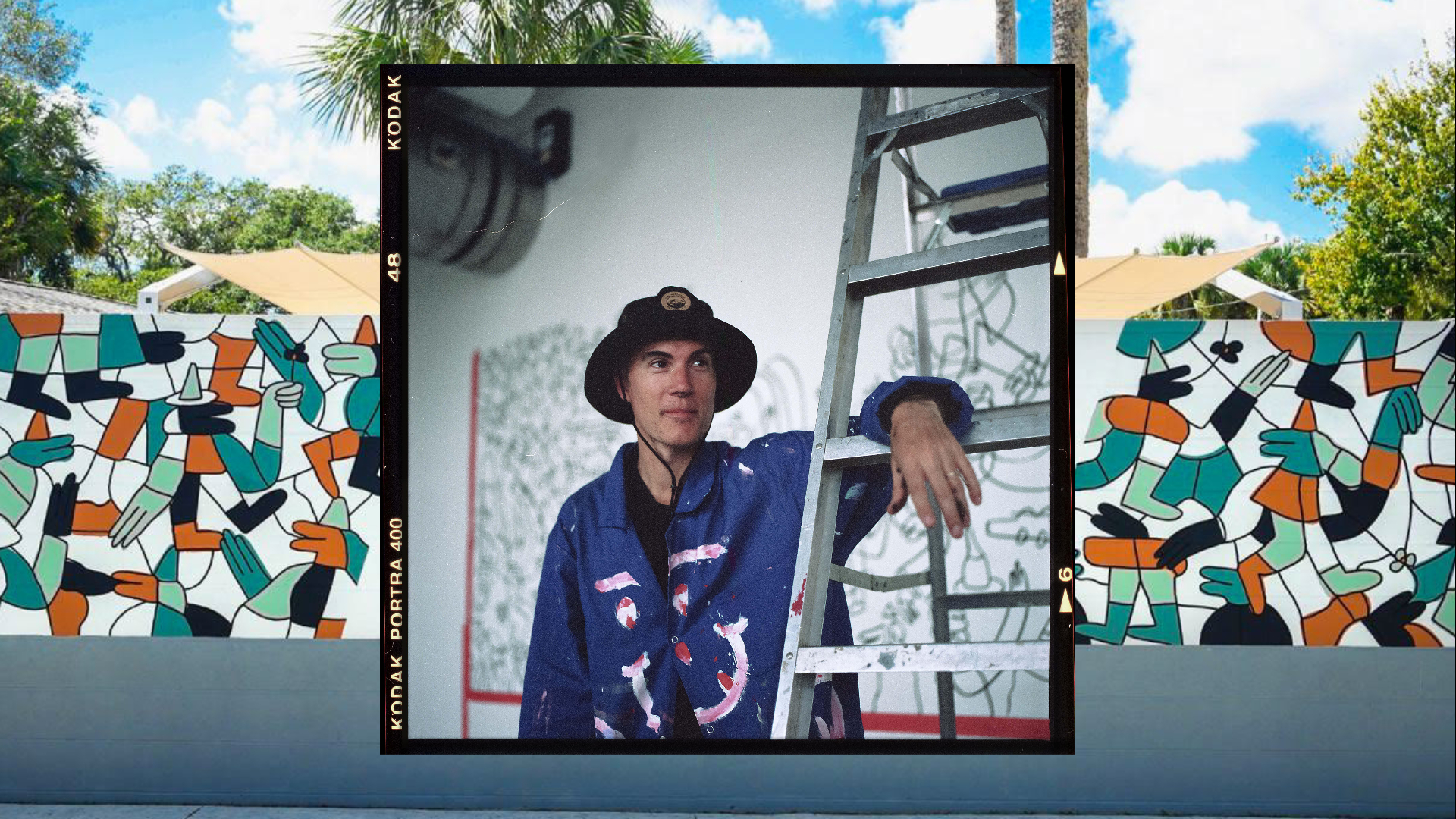 Lucas Beaufort returns to Atlantic Beach's Hotel Palms (mural in the background) for Art Camp | Credit: Images provided by the artist and Hotel Palms
Sound & Vision is a semi-regular feature that examines how music fuels and inspires creativity. Accompanying playlists for each Sound & Vision feature can be found on JME's spotify channel.
Birds loom large in popular music. From The Trashmen's puerile "Surfin' Bird" to Leonard Cohen's fortifying "Bird on a Wire" to the inventive R&B of Prince's "When Doves Cry" to Skynyrd's anthemic (and yes, overplayed) "Freebird," birds –– with their flight capabilities and overhead view of the things –– present a deep well of inspiration and endless metaphorical possibilities for humans; we flightless and street-view-bound creatures.
Artist Lucas Beaufort deploys birds quite frequently in his work. Specifically, one bird: the totemic and playfully rendered Gus Gus. The bird is ever present in Beaufort's portfolio, which includes mural installations, design for skateboard brands, photography and filmmaking, among other multifarious projects.
Gus Gus can often found depicted in bold colors, weaved into abstract patterns. But the Cannes, France-born multimedia artist's bird is more than a representational calling card or allegorical symbol.
"Gus Gus is not just a character; he is part of me," Beaufort told online skateboarding magazine Dose. "Gus Gus holds a flower and this is his weapon. He doesn't have eyes because he doesn't judge anyone… He has a peaceful mind set… He loves people, he loves to hang out and he loves to be nice."
Gus Gus, with his affable modus operandi, seems to fit right in at the Hotel Palms, where, during his last visit to Atlantic Beach, Beaufort painted his feathered alter-ego on the refurbished motor court's exterior wall.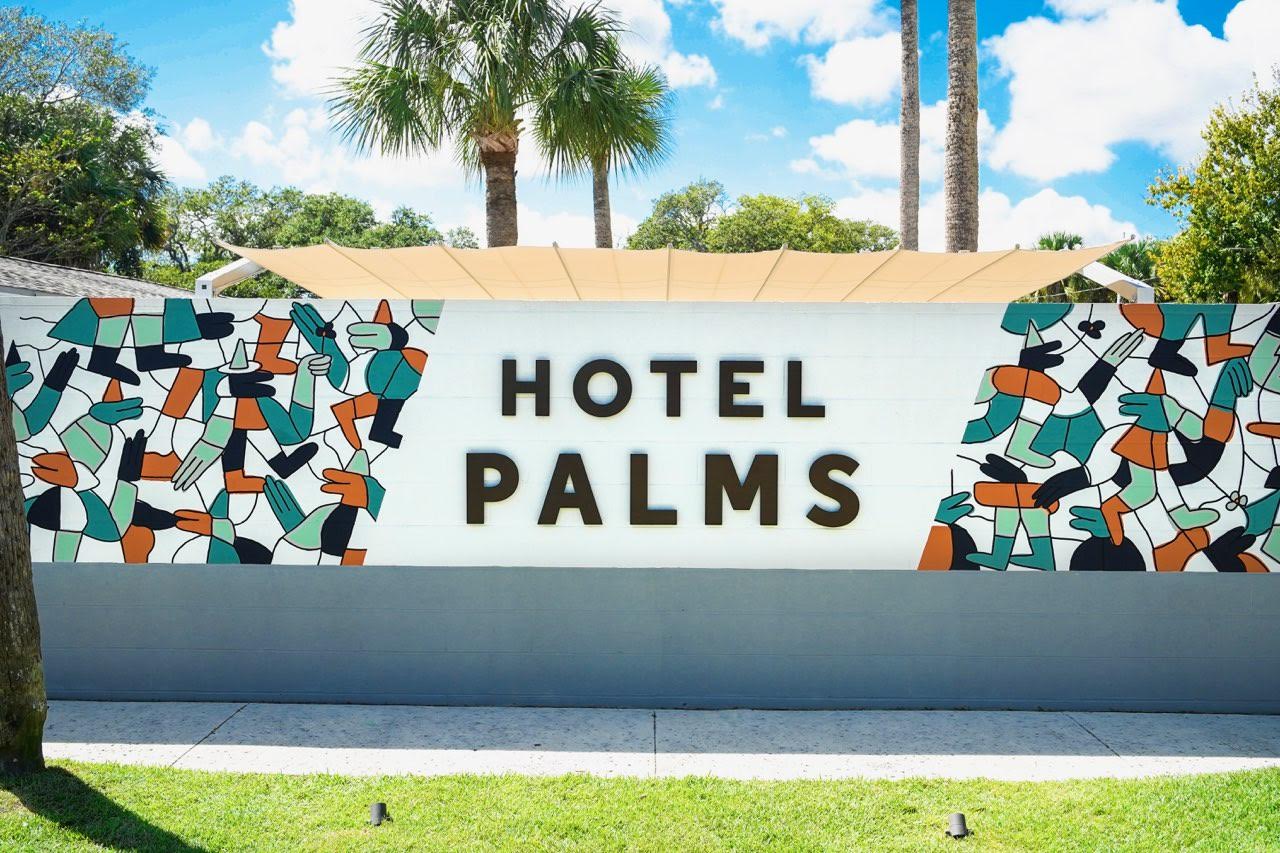 In June, Beaufort returns to the Hotel Palms; this time with an international crew of artists –– including Ashley Dreyfus, Russ Pope, Addeline Griswald and more –– for Art Camp, a week of creative projects to be undertaken at the hotel, culminating with three public events: A Night of Music (Thursday, June 16; 6-10 p.m.), Create (Friday, June 17; 9 a.m.-2 p.m.) and Supertropic (Saturday; 7-11 p.m.).
To create art that draws on the universal themes of peace, love and understanding, Beaufort draws inspiration from a range of sources. Music, though, has always lent fuel to Beaufort's creative fire.
"Music is without a doubt a part of all my creations. I can't draw anything without it," Beaufort said via email. "It's like running without shoes on hot coal, it doesn't work."
Beaufort's sonic palette includes a kaleidoscope of atmospheric bands with heavy doses of progressive indie-rock and enigmatic singer-songwriters. He cites both Radiohead's 1992 opus Pablo Honey and multi-instrumentalist Patrick Watson's mid-aughts release Just an Ordinary Day as deep wells that never cease to run dry. Of late, singer-songwriter Roland Faunte's warm and comforting Sewing Kit has been ever present in Beaufort's personal rotation.
"As I listen to all kinds of music, I'm always careful of what music I'm about to play before starting creating," Beaufort said.
In advance of Art Camp, Beaufort shared a playlist of songs that currently fuel his practice (listen above).
Art Camp is held at the Hotel Palms in Atlantic Beach from June 13-19. The hotel is open to the general public the duration of the week. Show Pigeon coffee is open weekdays from 7 a.m.-1 p.m. (except Thursday) and 9 a.m.-1 p.m. on Saturday and Sunday. The artists will be creating in the hotel's courtyard every day all week long. All events are open to the public. Ticket prices vary. Visit the Art Camp website for event ticket information.
---