Fresh Rotation | 4 New Songs We Really Dig
New music from Dry Cleaning, The A's, John Cale and Katalyst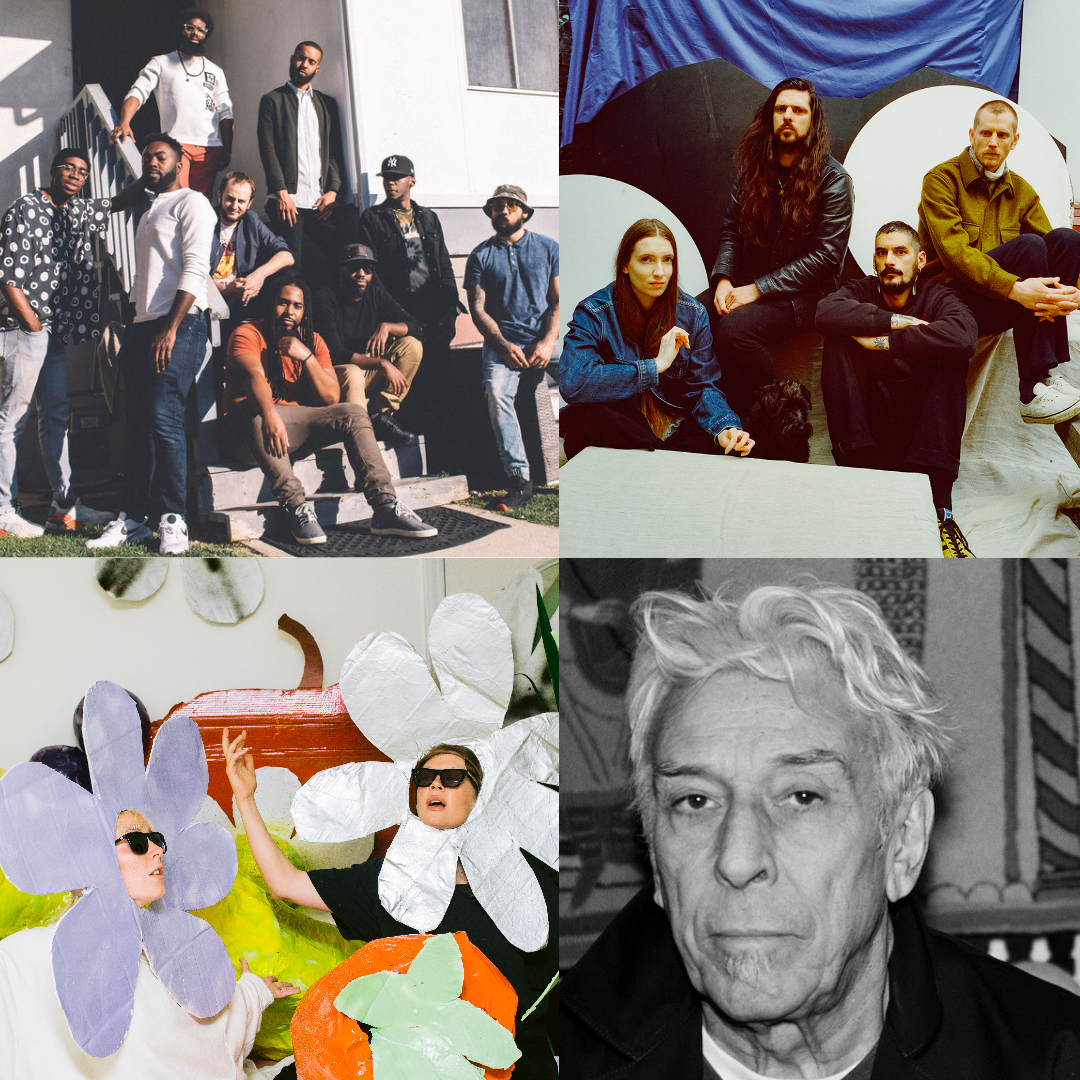 Credit: (Clockwise from left) The A's by Kendall Bailey Atwater, Katalyst courtesy of the artist, Dry Cleaning by Steve Gullick, John Cale by Marlene Marino
Each and every week the JME team handpicks the juiciest new tunes from local, regional, national and international artists to add to the rotation on The Independent 89.9 HD4 (and to our tasty, tall-glass-of-a-listening-experience that is our monthly Fresh Squeeze playlist). Each song is chosen with intention. And so we often feel like they are worthy of a broader discussion (or at least a bit of context).
Here are four songs that the JME team is listening to this week.
Tune in to The Independent 89.9 HD4 to hear many of our team's Fresh Rotation picks, as well as the best new music from non-commercial artists.
"Don't Press Me" by Dry Cleaning
Florence Shaw, frontwoman of English post-punk band Dry Cleaning, strings together lines of seemingly unfabricated thoughts as though she knows the dirty consequences words can have. "Don't Press Me," the first sampling of the band's upcoming album, Stumpwork, is leery of contact but there's a sense of relatable anxiety when Shaw actually, sort of sings, "You are always fightin' me / You are always stressin' me out, don't press me," straying from her usual paucity of melody. The gingerly-played guitar behind campy lyrics like "Don't touch my gaming mouse" are expected from Dry Cleaning. What's unexpected is the optimistic claps and strangely hopeful whistling. For some reason it feels like they're making fun of me…and I like it. –Rain Henderson
---
"Night Crawling" by John Cale
The latest from postmodern music polymath John Cale, "Night Crawling" is a callback and homage to the late '70s/early '80s, when the Welsh musician officiated a shotgun wedding between dance music and the avant-drone that he helped codify and propagate through his earlier work with La Monte Young, the Velvet Underground, through his slithering soul-tinged solo numbers like "Mr. Wilson" and "Honi Soit." Over an ice-chill production and bass-tilted groove with a sharp-as-nails drum beat, Cale assures the listener with the lyrical refrain, "I can't even tell when you're putting me on / We've played that game before'; a fitting opacity for a song that Cale admits is essentially a reverie to the days, and late-night daze, spent with David Bowie at a time when that pair's creative efforts at toggling then-ambiguity and aesthetic fluidity helped bring us to the very places we are today in contemporary art. The accompanying video directed by Mickey Miles, is a humorous and retro-illustrated animated clip featuring Cale and Bowie burning the midnight oil on an all-night strut through the city.–Daniel A. Brown
---
"He Needs Me" by The A's
The first single by indie super-duo The A's is a cover of the Harry Nilsson-penned and Shelley Duvall-sung twee ballad "He Needs Me." Featuring two thirds of the folk trio Mountain Man, Amelia Meath (also of indie duo Sylvan Esso) and Alexandra Sauser-Monnig (also known for her folkie solo project Daughter of Swords), The A's debut album, Fruit, is comprised of one original song, "When I Die," and nine covers, mostly songs deemed in a press release "lullabies, traditional ballads and rural standards… and other music that Meath and Sauser-Monnig simply love to sing." The A's version of "He Needs Me," which was written for the soundtrack to 1980's live-action Popeye, retains Nilsson's avant-garde streak, with a foundation built of sonic bric-a-brac – twinkly piano, vibrating cello plucks, miscellaneous droning – and Meath and Sauser-Monning cozying up inside the tune to create something even more charmingly strange than the original.–Matthew Shaw
---
"Daybreak" by Katalyst
Though not widely known outside of the red-hot Los Angeles jazz scene, the nine-piece Katalyst is not only a potent group of musicians but an incubator for emerging talent whose list of bonafides is ever-growing. The band, which features alumni of the Pan Afrikan Peoples Arkestra, is in-demand among LA musical icons, collaborating in recent years with MND$GN, Anderson .Paak, SiR and Kendrick Lamar, among others (they've also backed Roy Ayers and Gary Bartz). And now they're the first emerging artist to record a release for Jazz Is Dead, the label founded by Adrian Younge and Ali Shaheed Muhammad that, to date, has recorded more than a dozen new albums with living legends, including Brian Jackson, Roy Ayers, Marcos Valle and Doug Carn. On the pastoral "Daybreak," the band steers around a meditative piano motif and driving percussion with tenor saxophonist David Otis providing muscular solos.–Matthew Shaw
---