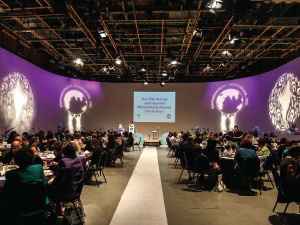 You've never seen a facility quite like the WJCT Studio A Soundstage. Over 7,800 square feet of unobstructed television and film production space, total environmental control, LED full color capsule lighting, 30-foot ceiling heights and more.
The brand new three-wall cyclorama, totaling 125 linear feet and measuring 23 feet tall, adds infinite flexibility to this already incomparable production facility.
As the largest soundstage between Atlanta and Orlando, rental of Studio A also includes dressing rooms with showers, offices, access to Wi-Fi, food preparation and service areas and much more. Vehicular access to the studio is easy. All of this for a daily rental cost that will fit your budget.
Additionally, the television production capabilities of WJCT shouldn't be overlooked. As the premier PBS facility for northeast Florida, WJCT will assist you and your corporation in developing and implementing a communications plan tailored to your specific internal and external needs. Whether it's a short corporate video for your speaker's bureau, a series of training tapes designed to bring your employees up to speed on a particular issue, WJCT has the experienced producers to make your project work.
Contact WJCT's CreativeworX at (904) 358-6311 or fill out this form.