Over his professional career, Dave Walker has held leadership positions in the private, government and nonprofit sectors – culminating in a decade-long mission to promote fiscal responsibility.
From 1998 to 2008, Dave served as the seventh Comptroller General of the United States, where he spoke the truth to the American people about Washington's fiscal mismanagement. Most recently, he served as CEO of the Comeback America Initiative (CAI), an organization Dave founded to engage his fellow citizens in the fight to restore fiscal sanity.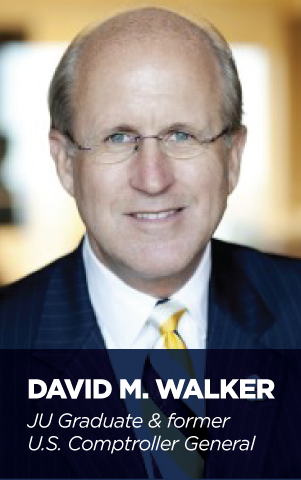 The Evening's Agenda:
7:00PM Registration & Reception
7:30 – 8:30PM Program
Refreshments Provided
This event is free, but space is limited and reservations are required. RSVP: February 21 by 5PM. Call 904.358.6322 or click the button below!
[call_to_action background_pattern="stripes-dark" button_color="blue" button_text="Click Here!" button_url="https://www.eventbrite.com/e/in-pursuit-of-fiscal-responsibility-tickets-31995900600″]Reserve your seat today![/call_to_action]
When
Thursday, February 23, 2017
7:00 pm - 8:30 pm
Where
WJCT Studios
100 Festival Park Avenue
Jacksonville, Florida 32202