WJCT's 2019 Salute To Veterans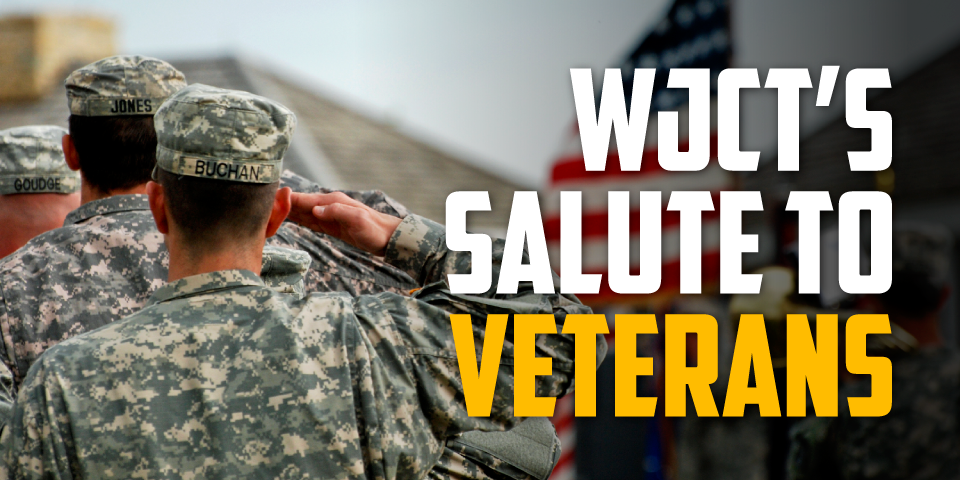 November 11 of each year is the day that we ensure veterans know that we deeply appreciate the sacrifices they have made in their lives to keep our country free. Help WJCT honor our veterans during the month of November by submitting a name we may add to our on-air thank you announcements.
The submission period has ended.
Be sure to check back soon when the on-air thank you announcement video is added to this page. Thank you!
Florida Stories of Service

To watch local Stories of Service and other incredible veteran accounts and documentaries from around the state of Florida simply CLICK HERE.
For more information on the Stories of Service or the Veteran's Coming Home initiatives click the links below.
Veteran's & Military Programming 2019
Stories of Courage. Stories of Sacrifice. Stories of Service.
WJCT-TV 7.1 Comcast 8 & 440, WJCT-TV 7.4 More!, Comcast 212
WJCT and trusted public media partners bring you Stories of Service, a multi-platform initiative that unites powerful stories and conversations around one of our country's most resilient communities: our military veterans. Stories of Service will connect programming and online initiatives tied to military service across public media. WJCT viewers will be able to hear the stories and experiences of veterans as told through PBS' extensive pipeline of documentaries and specials.
Pearl Harbor: Into The Arizona
11/4/19, 10PM WJCT 7.1
Pearl Harbor USS Oklahoma-The Final Story
11/4/19, 11PM WJCT 7.1
Warrior Tradition
11/11/19, 10PM WJCT 7.1
Military Family Documentary: While Time Stands Still
11/11/19, 11PM WJCT 7.1
Independent Lens #2103 The Interpreters
11/12/19, 11PM WJCT 7.1
D-Day 360
11/10/19, 7:30PM WJCT 7.4
D-Day: Over Normandy
11/10/19, 8:30PM WJCT 7.4
D-Day: The Price of Freedom
11/10/19, 9:30PM WJCT 7.4
Independent Lens: 2103 The Interpreters
11/11/19, 10PM WJCT 7.4
On Home Ground: Live After Service
11/11/19, 11PM WJCT 7.4
Scramble The Seawolves
11/17/19, 7:30PM WJCT 7.4