Professions That Will Always Be in Demand
When an employment crisis hits, some people find themselves out of a job while others find that their demand has increased. Why? Because there are certain jobs that will always be in demand no matter how the economy is doing. So which jobs are considered in demand? In just about every field you can find something hands-on that is in demand but the most common professions that will always be required include those that people need everyday like plumbers, electricians, doctors, and locksmiths.
Plumbing Opportunities
Plumbers are one profession that will always be in demand. People always need plumbers whether they are building a new office building or a new home, or just having problems with outdated hardware in their homes or offices now.
Plumbers are called for septic tank issues or problems with proper toilet flushing
Plumbers are used for issues with water pressure or replacing shower heads
Plumbers are who you call when you find a leak under your kitchen sink or in the walls
Many of the solutions that plumbers offer represent skilled labor meaning it is an acquired skill that professionals have to learn, not necessarily something that every person knows how to do. More importantly, problems with water leaks or toilets or kitchen sinks are usually very demanding and constitute an emergency so that the problems don't get worse and the facilities can go back to being operational. It is for these reasons and many more that plumbing opportunities will always be in demand.
Electrician Opportunities
Electricians are equally important whether it is to install new wiring in your home or office, to help rewire the electricity behind the walls during reconstruction or renovations, or just to fix a faulty outlet.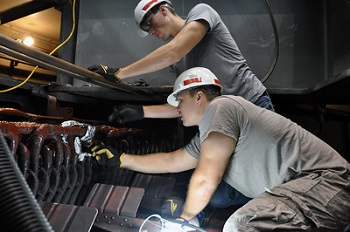 Electricians fulfill a very important need for quite literally every profession and every home. Hospitals can't operate without very specific electrical needs being met within the hospital just the same as homes can't properly cook or turn on lights if the electricity is faulty. Being an electrician requires nothing more than a high school diploma or equivalent because it is a field where you progress in the field after you obtain hands-on experience and continued education. Registered electricians are able to continue with vocational training in order to make more money and work on more complicated projects.
Medical Opportunities
While there are many hands-on skilled professions that will always be in demand, another is the medical field. Nurses, Physicians assistants, Medical technologists, and doctors are always in demand because there will always be a need for fixing ailing health or emergencies. Physician's assistants help doctors and surgeons examine patients, diagnose the medical conditions, and treat them. However a physician's assistant typically needs not only a master's degree but a medical license in every state where they want to operate, figuratively. A registered nurse can help educate patients on how to treat their conditions and provide emotional support for families with only a bachelor's degree or an associate's degree and nursing certificate. Still, nurses need to have special licenses in every state where they want to practice. A medical technologist, lab assistant or scientist Works behind the scenes, checking out all of the samples that doctors take from their patients but this requires a bachelor's degree at a minimum as well as a state-issued license. And of course being a doctor requires almost twice as much education for medical school and residency.
Locksmiths Opportunites
That said, not everyone has the time or inclination to become a doctor. That doesn't however mean that you can't find an in-demand profession. Locksmith franchises are another. Being a locksmith is something that people will always need and it requires much less of an educational investment up front on your behalf. This is particularly true of locksmith franchises. Locksmith franchises work the same as any other franchise in that you're joining the business allows you to be a business owner for your particular franchise but that franchise operates under an already established brand name usually on a national level. This brings with it reduced start-up costs for getting your name out there or trying to get new customers as well as reduced marketing costs or sales costs. Becoming a locksmith doesn't require the same education as medical fields nor does it require as intense vocational training as one might see becoming an electrician. It brings with it the same emergency based opportunities as a plumber because, when people lose their keys or their locks are broken after a break-in, they need repairs immediately.